Here you'll find items of current interest — new programs, recent guidance, or timely reminders.  Just scroll through the topics below to get the latest information!
---
EMPLOYMENT OPPORTUNITY




Morgan County Health Department, is seeking qualified applicants to fill the position of Environmental Health Inspector.  This position requires work in completing environmental inspections to determine and ensure compliance with applicable laws, rules and regulations.

 

Compensation will commensurate with experience.  Preference to applicants with an Associates or Bachelor's degree.  Completion of 30 semester hours in Applied Sciences is strongly encouraged.  Environmental Health Certifications and Emergency Preparedness Planning experience a plus.

 

Position requires a dependable vehicle for use during work hours, a valid driver's license and proof of auto insurance.

Send resumes to:  Morgan County Health Department, Attn:  EH, 345 W. State St., Jacksonville, IL 62650 by August 15, 2014.
---
August is National Immunization Awareness Month
The purpose of this observance is to highlight the importance of immunizations, one of the top 10 public health accomplishments of the 20th Century, according to CDC.
 While immunizations have significantly reduced the incidence of many serious infectious diseases, vaccination rates for some diseases are not meeting national public health goals. And we need to remind people that immunizations aren't just for children. They are needed throughout our lifetime.
Vaccines are an important step in protecting against serious, and sometimes deadly, diseases and are recommended throughout our lives.  Vaccines give parents the safe, proven power to protect their children from 14 serious diseases before they turn 2 years old.
 Every dose of vaccine is important to protect against infectious diseases like the flu, measles and whooping cough (pertussis) that can be life threatening for newborns and young babies.     
 Preparing your child for school means gathering supplies and back packs. It's also the perfect time to make sure children are up to date on their vaccines. Getting all of the recommended vaccines is one of the most important things parents can do to protect their children's health. 
 When children are not vaccinated, they are at increased risk for disease and can spread disease to others in their classroom and community – including babies who are too young to be fully vaccinated, and people with weakened immune systems due to cancer and other health conditions. Schools are highly susceptible to outbreaks of infectious diseases because students can easily transmit illnesses to one another as a result of poor hand washing, uncovered coughs and dense populations.
 Vaccines are not just for children. Immunizations are needed throughout your adult life to help you stay healthy. That's because immunity from childhood diseases may wear off over time, and you may also be at risk for other vaccine-preventable diseases.  Getting ready for college or your future career means making sure you are up to date on all doses of the recommended vaccines–both to protect yourself and others around you. Because some diseases can spread quickly in settings like college dorms and classrooms, many colleges and universities have vaccination requirements for school entry.
Immunization is important for anyone who is in close contact with the very young, the very old, people with weakened immune systems, and those who cannot be vaccinated.
For more information on recommended vaccinations, call Morgan County Health Department at
217-245-5111  
---
Avoid bug bites
It's that time again!!!!   Bugs (including mosquitoes, ticks, and some flies) can spread a number of diseases. Many of these diseases cannot be prevented with a vaccine or medicine. You can reduce your risk by taking steps to prevent bug bites.
What type of insect repellent should I use?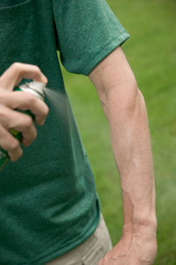 FOR PROTECTION AGAINST TICKS AND MOSQUITOES: Use a repellent that contains 20% or more DEET for protection that lasts up to several hours. Products containing DEET include Off!, Cutter, Sawyer, and Ultrathon.
FOR PROTECTION AGAINST MOSQUITOES ONLY: Products with one of the following active ingredients can also help prevent mosquito bites. Higher percentages of active ingredient provide longer protection.

Picaridin (also known as KBR 3023, Bayrepel, and icaridin. Products containing picaridin include Cutter Advanced, Skin So Soft Bug Guard Plus, and Autan [outside the US])
Oil of lemon eucalyptus (OLE) or PMD (Products containing OLE include Repel and Off! Botanicals)
IR3535 (Products containing IR3535 include Skin So Soft Bug Guard Plus Expedition and SkinSmart)

Always follow product directions and reapply as directed.

If you are also using sunscreen, apply sunscreen first and insect repellent second.
Follow package directions when applying repellent on children. Avoid applying repellent to their hands, eyes, and mouth.

Consider using permethrin-treated clothing and gear (such as boots, pants, socks, and tents). You can buy pre-treated clothing and gear or treat them yourself.

Treated clothing remains protective after multiple washings. See the product information to find out how long the protection will last.
If treating items yourself, follow the product instructions carefully.
Do not use permethrin directly on skin.
What other steps should I take to prevent bug bites?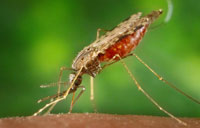 Prevent mosquito bites.

Cover exposed skin by wearing long-sleeved shirts, long pants, and hats.
Stay and sleep in screened or air-conditioned rooms.
Use a bed net if the area where you are sleeping is exposed to the outdoors.

Prevent tick bites.

Cover exposed skin by wearing long-sleeved shirts, long pants, and hats.

Tuck in shirts, tuck pants into socks, and wear closed shoes instead of sandals to prevent bites.

Avoid wooded and brushy areas with high grass, brush, and leaves. Walk in the center of hiking trails.

Prevent tsetse fly bites.

The tsetse fly lives in sub-Saharan Africa and can spread African sleeping sickness (African trypanosomiasis).
Cover exposed skin by wearing long-sleeved shirts, long pants, and hats.

Clothing fabric should be at least medium weight because the tsetse fly can bite through thin fabric.

Wear neutral-colored clothing. The tsetse fly is attracted to bright colors, very dark colors, metallic fabric, and the color blue.
Avoid bushes during the day, when the tsetse fly is less active. It rests in bushes and will bite if disturbed.
Inspect vehicles for tsetse flies before entering. The flies are attracted to moving vehicles.
What should I do if I am bitten by bugs?
If you are bitten by mosquitoes:

Avoid scratching mosquito bites.
Apply hydrocortisone cream or calamine lotion to reduce itching.

Find and remove ticks from your body.

Bathe or shower as soon as possible after coming indoors.
Check your entire body (under your arms, in and around your ears, in your belly button, behind your knees, between your legs, around your waist, and especially in your hair). Use a hand-held or full-length mirror to view all parts of your body.
Check your pets and belongings. Ticks can be on outdoor equipment and clothes. 
---
Why Recycle??
    Recycling may require a few extra minutes and conscious commitment.  However, by recycling, the negative impacts on the environment can be minimized and promote a safer and more sustainable community. 
    

Recycling conserves energy and our natural resources, saves landfill space, as well as reduces water and air pollution.  As environmental awareness increases, recycling increases in relevance.
    The common montra Reduce, Reuse, Recycle combined with purchasing recycled products comprise a comprehensive waste and resource reduction strategy that benefits our natural world.  For every 1,000 tons of recycled material, 15 jobs are created as compared to less than one job created by land filling the material.
    The US Environmental Protection Agency estimates that 70% of the waste Americans produce could be recycled.
    The Morgan County Health Department has dedicated a section of our website for information and education to help you with your recycling efforts.
    Recycling is a very important part of our countys waste management.  Click on the page at the left for more information about recycling opportunities in Morgan County.
---
WE NEED YOU!!!
A disaster can strike anywhere, whether it's a hazardous material or weapons of mass destruction or a natural disaster like a tornado or flood.   Problems arising from emergencies and disasters pose a threat to human health, well-being, and survival.
    In the event of a disaster, the health department would need volunteers to help us help the citizens of Morgan County.  We will need medical staff as well as support and environmental staff.  If  you would be interested in being on our list, please fill out the Volunteer application and send it to us.
  Click here for the Volunteer Application.
 Thank you for your support!